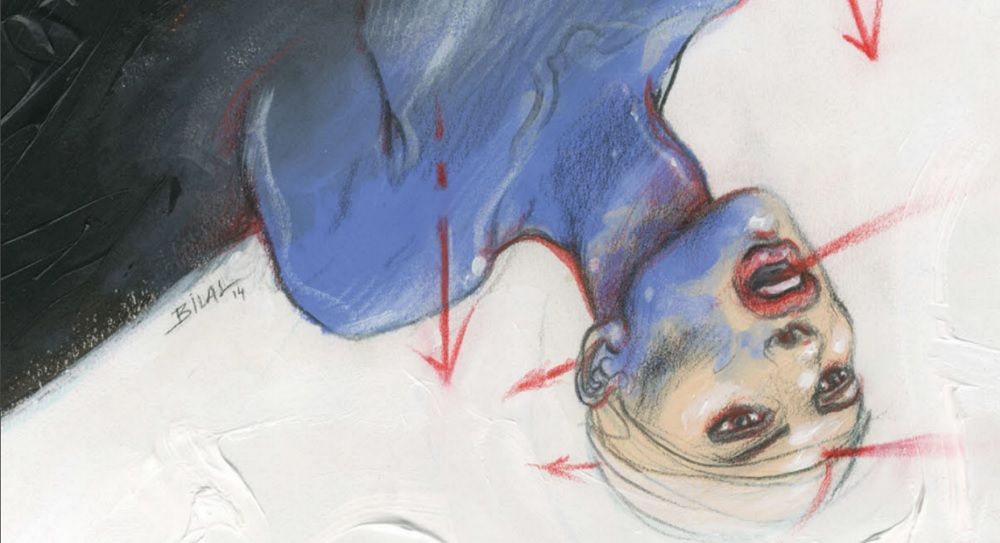 Everybody has a tipping point. We don't always know what it is. We don't always see it coming. Sometimes it arrives in a flash, while at other times it simply marks the end of a gradual journey toward a new reality that will change who we are, or even the world around us. But no matter what we consider to be our tipping point, we cannot escape that one incontrovertible fact—we all have at least one.
Enter The Tipping Point, a collection that melds over a dozen styles of artwork and storytelling from comic creators located all around the globe. Published by Humanoids for release as part of their 40th birthday celebration, this collection serves to enhance any comic fan's love for the graphic medium and the endless array of styles that it offers. Or as so lovingly stated by publisher Fabrice Giger in his introduction:
"Humanoids, since its very inception, has always had a leitmotif to build bridges between American comic books, Japanese manga, and European bande dessinée. To help them to feed each other—or even better yet, to cross-pollinate."
Each of these unique stories focuses on one tipping point or another, whether it be serious or mild. Some are abstract, while some are more realistic. Some are pure science fiction, while one is a fart. But each and every one shares in common the ability to ignite a spark within readers that will not only enhance their love for the graphic medium, but also allow them to realize the true depth this medium is able to offer.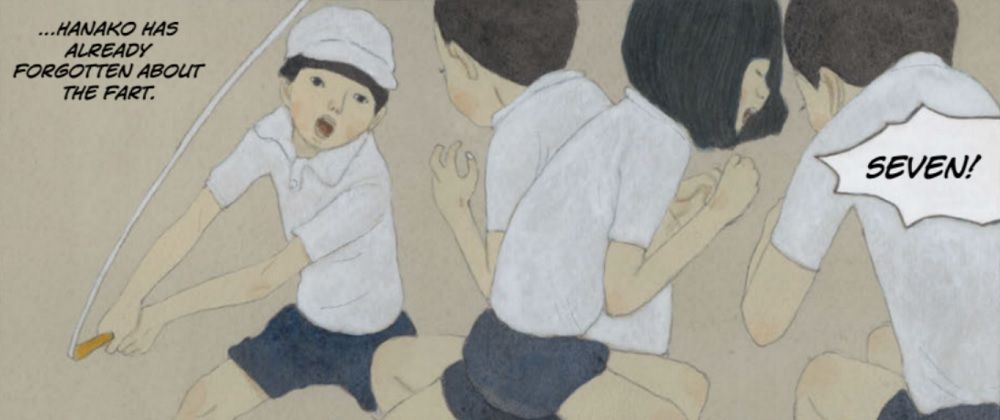 In many ways, some of these stories will act as tipping points for the reader. "Hanako's Fart" by Taiyō Matsumoto begins with a young child who is worried that someone may notice a recent moment of flatulence. But while Hanako worries about this fart, there are people all around the globe who are dying, losing their jobs, or crying over broken toys. At the same time, there are also those who are quite happy. This is one of the simplest stories in this book, yet it reminds us that the world is a great big place and that our own experiences are a drop in the pan compared to what the rest of the planet experiences at any given moment. This story is an excellent primer for the wealth of stories and themes that follow it.
Matsumoto is only one of five artists representing Japan in this collection. There is also a brilliant story by Atsushi Kaneko with a rather thought-provoking ending. Kaneko's art style also appears to draw from the cross-pollination Giger mentions in the book's intro. The same could most definitely be said of the art style presented in a rather humorous story by Naoki Urasawa. Both Keiichi Koike and Katsuya Terada utilize styles that will be a little more familiar to fans of Japanese artwork. These stories are both a bit meta, and offer fantastic narratives that succeed in utilizing no dialogue whatsoever, allowing the reader to interpret the meanings of the stories on their own.
Only three American creators grace the pages of The Tipping Point, but their presence is most certainly felt. The first is John Cassaday, who is sure to awe readers with "Huckleberry Friend." A somewhat informal poem, this story tells of a crucial moment in Huck Finn's life, when he makes a decision potentially harmful to himself for the good of someone else. In this story, Cassaday uses black and white to tell a very colorful story, and the interplay between these two colors is amazing. It also seems a quite fitting color scheme for a tale such as Huck Finn's. It may be based upon pre-existing material, but Cassaday truly makes it his own.
The next two American stories have artistic styles that may feel familiar to American audiences. Bob Fingerman's "The Unbeliever" feels like a classic cartoon-style comic, a style at which Fingerman has always excelled. The story is humorous and quite witty, with at least one joke that you might not catch unless you just happen to be familiar with asthma medication. It tells the story of Jim, a person who you've probably met in real life at one point or another, and it leaves the reader wondering about the nature of doubt. Once we begin questioning our own beliefs, how do we turn that switch back off? This question isn't necessarily answered, but it's still amazing to see such a thought-provoking idea arise from what is basically a comedy.
Rounding out the American offerings is "Consort to the Destroyer" by Paul Pope. This intriguing story is somewhat straightforward, and may or may not feature a talking shark (depending upon how you choose to interpret things). With a very classic American comic book style, the art complements what is essentially a straightforward story of strength and survival. While every panel is beautiful, arguably the best is on the first page, when the main character first opens her eyes. Sometimes there isn't one specific moment that sparks our tipping point. Sometimes, we just wake up.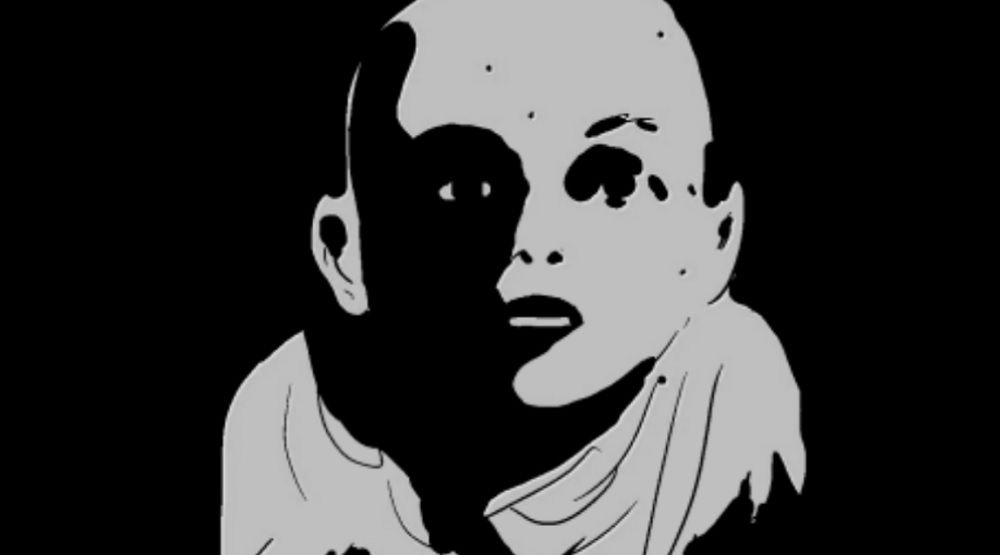 The European artists in The Tipping Point offer some of the best examples as to why comics are such a wonderful medium. This begins with Emmanuel Lepage, who tells a rather straightforward story of sexual awakening in such a way as could not be told in any other medium. If an artist's use of color may be referred to as "succinct," then this may be the best way to describe Lepage's artwork in this story. Color appears only where it can be used best, and the story is all the better for it. Eddie Campbell pulls off an equally amazing artistic feat in his story, which likely would not work outside of this medium. The art style is incredibly unique, with a story that feels relatively simple yet somehow is richly told.
Boulet and Bastien Vivès offer two incredibly interesting stories that complement each other in an odd way. Boulet's story is highly humorous, and rewards its protagonist for behaving in a manner that would seem counter-intuitive to most. By contrast, Vivès' story is quite dark, and punishes its main characters for trying to do the right thing. These are stories in which The Tipping Point will show the reader that our tipping points do not have to be internal. Sometimes they occur in the world around us, challenging our beliefs in the value of logic, morals, and other human creations we hold so dear.
Fredereik Peeters provides the shortest of the European offerings, but at just three pages his story should excite readers quite a bit. It almost feels like the beginning of a longer tale, as do many of the stories in this book. After all, what is a tipping point but the beginning of something new? This little foray into the world of science fiction is quite fun, and offers some great artwork. The last panel is especially fantastic, lending a strangely beautiful sense of chaos to this short tale by a very unlikely narrator.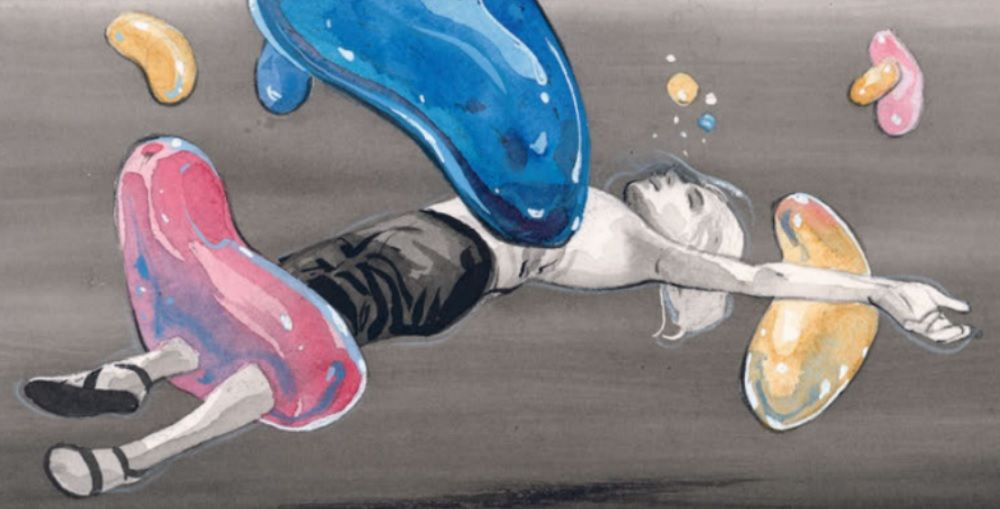 Overall, The Tipping Point is one of the most intriguing collections you may ever read. If Humanoids had not thought to combine the works of these creators under the banner of a highly interesting theme, these particular stories may never have appeared together in a single volume. Just as Les Humanoïdes Associés was the tipping point to a new revolution in comics that inspired Fabrice Giger to create Humanoids more than 20 years later, The Tipping Point is a collection that will stay with readers long after they have experienced what is has to offer. And who knows? One or two readers may even be inspired to create their own works one day.
With an amazing cover by Enki Bilal (who worked on Métal Hurlant), The Tipping Point will be available on February 3 in both a $29.95 trade edition and $499 Ultra-Deluxe slipcase edition. The slipcase edition will be limited to 100 copies, but will include signed bookplates by every single creator who worked on this astounding collection.
Whichever edition you choose, you aren't going to want to overlook this one. The Tipping Point is a true gem, a shining star in a multiverse rich with creativity, diversity, and innovative storytelling. It will unlock new worlds, each of which you'll want to explore time and time again. Anyone who truly cares about comic books and their creators should be sure to have this one on their shelf.